News
November 1, 2015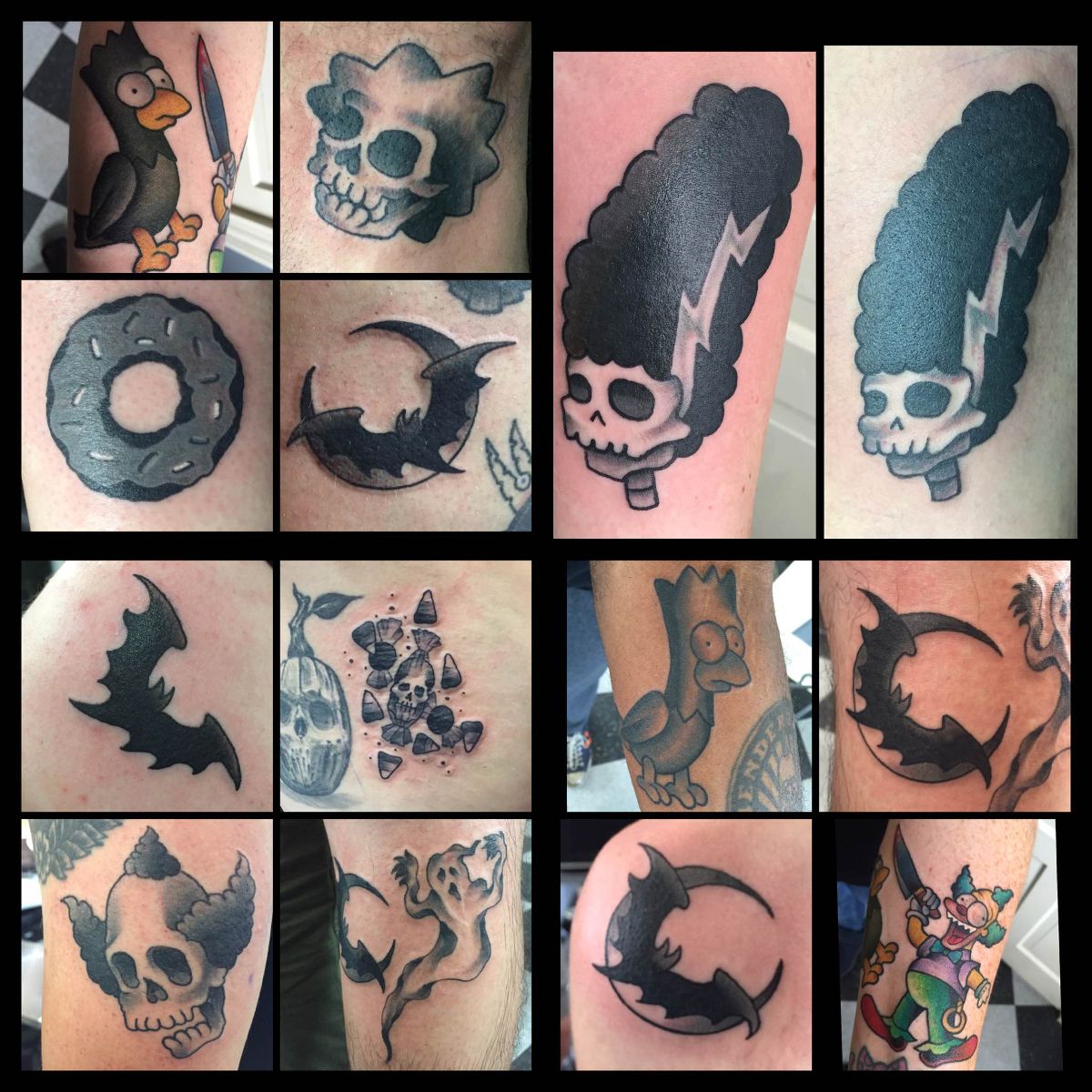 This year was my first with Artisan's Halloween Extravaganza. I am extremely impressed with the turn out and the amount of fun that was had by all! The day started at 9am for me and ended at 9pm after 12hrs of non-stop tattooing. Without a break, I was able to fit 14 tattoos on 12 lovely Treehouse of Horror fans to celebrate the holiday. I had such a lovely time dressing up and tattooing everyone. My only wish is that I could have tattooed more Simpsons on more folks, what a wonderful day! Especially if you couldn't make it this year, I encourage you to stop in early next Halloween to check things out. This was a blast! For those who did stop out, I sincerely say thank you for making this the most memorable Halloween. I am so grateful!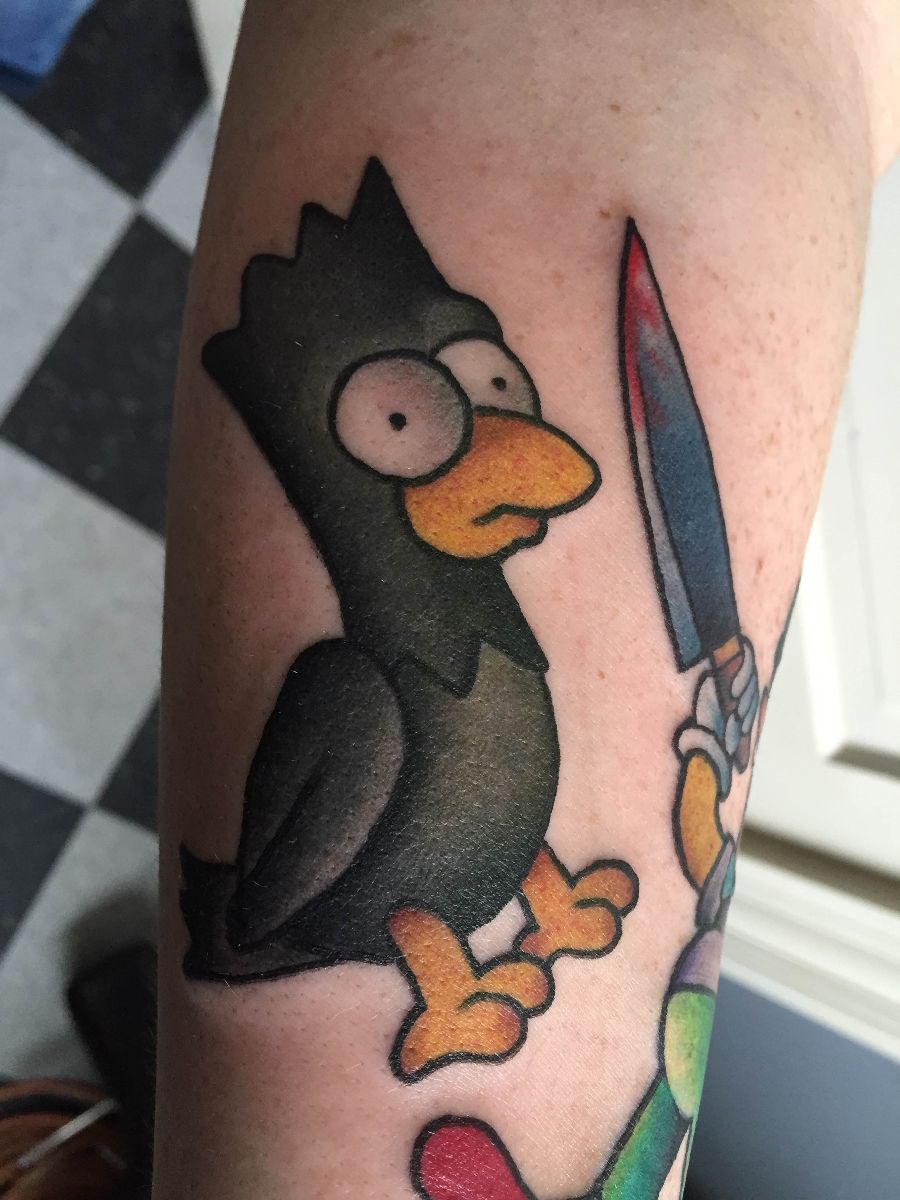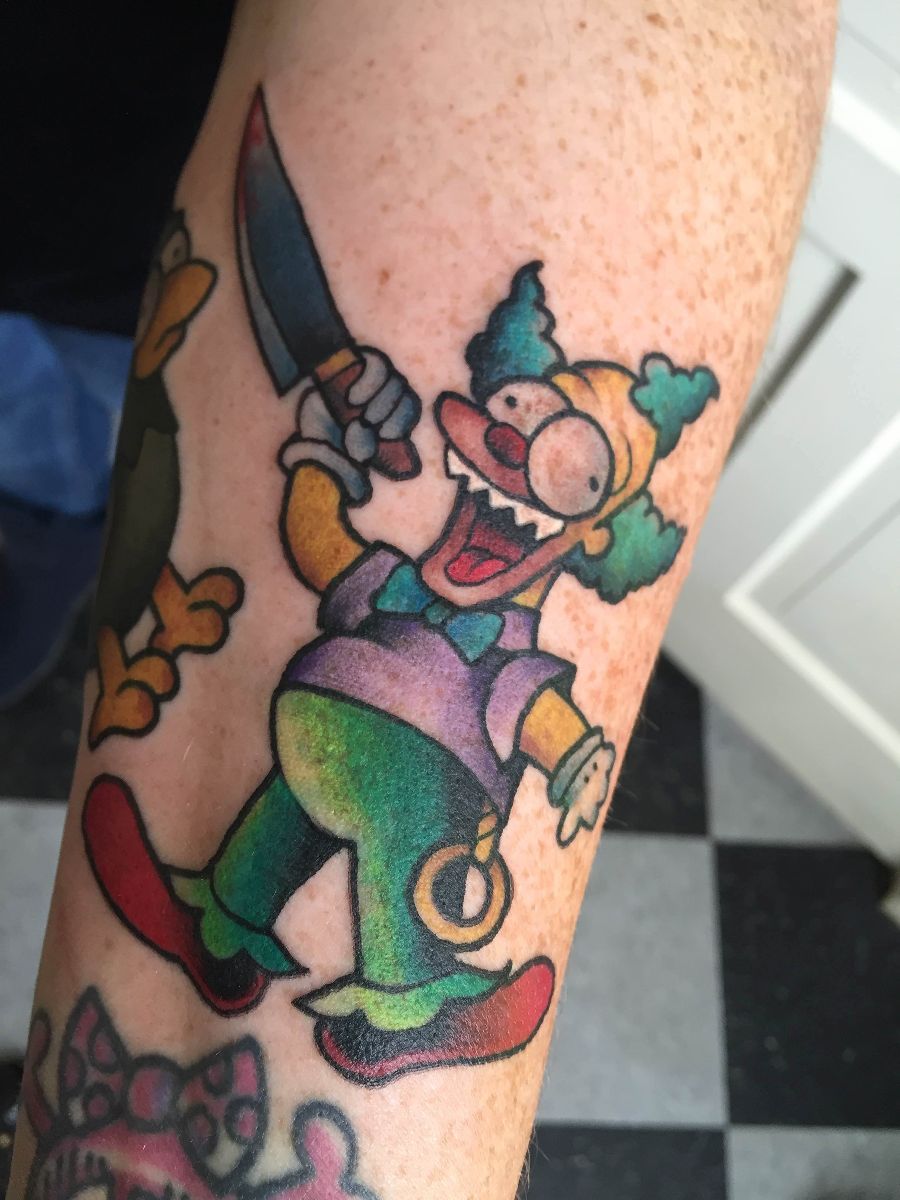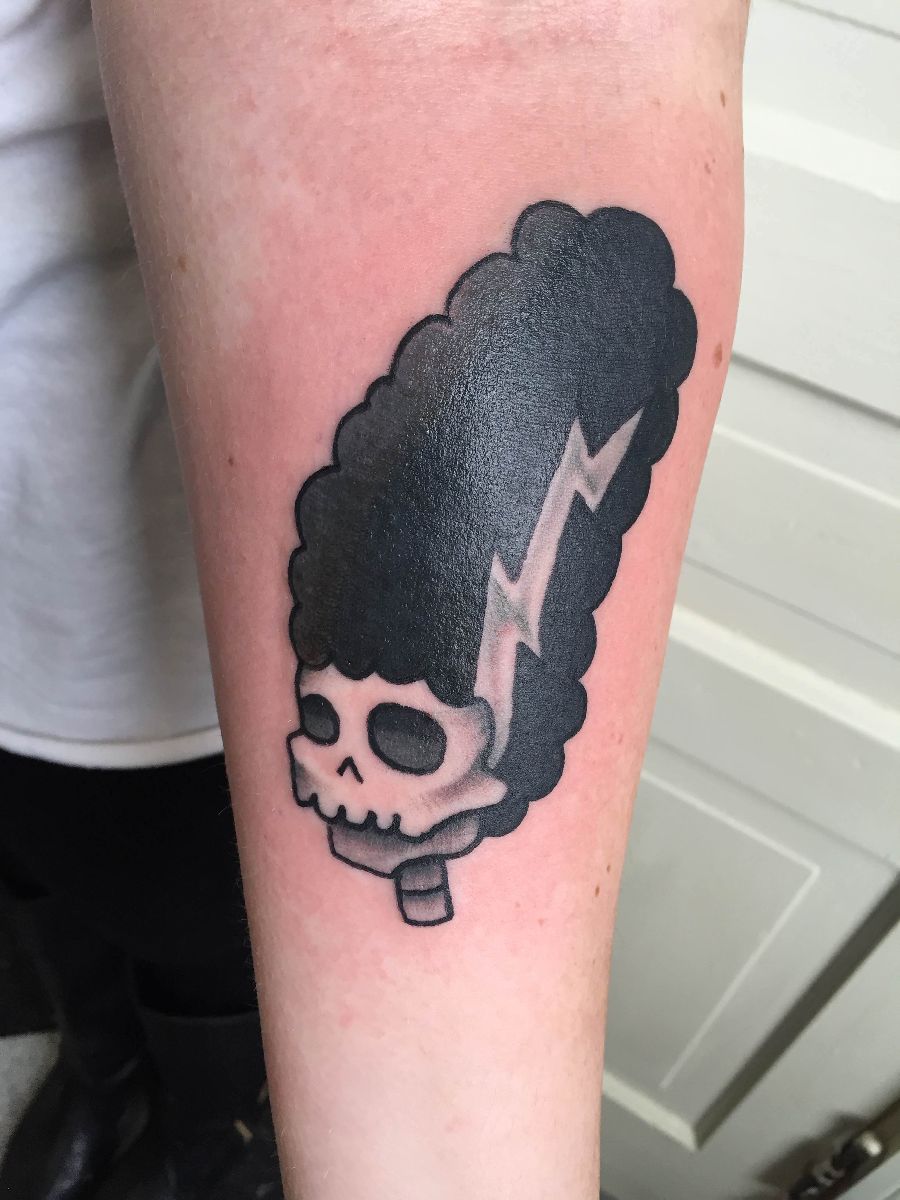 October 25, 2015
Hoorah!!! The shop and I are honored by the recent results of "Best of Pittsburgh 2015". This yearly poll is facilitated by the Pittsburgh City Paper and voted on by the readers and community. The fact that the community at large voted for us, is especially humbling. I feel lucky to work at such a professional, clean and talent-filled shop. Check out the article here: http://www.pghcitypaper.com/pittsburgh/best-of-goods-and-services/BestOf?oid=1860596&storyPage=2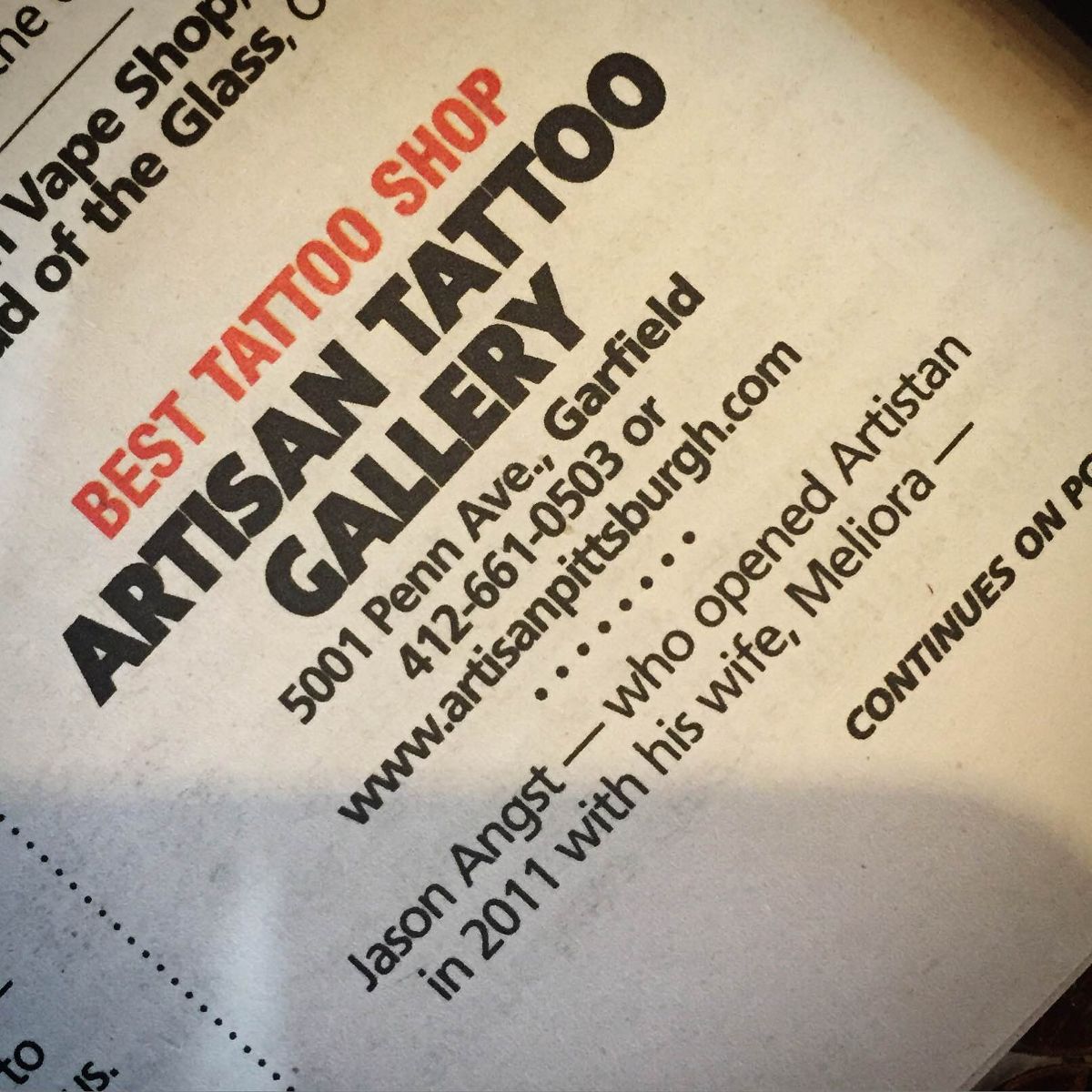 Artisan began in 2011 when Meliora and Jason Angst bought an abandoned building at 5001 Penn Avenue. The building needed extensive reconstruction and over the course of several years of incredibly hard work, became what it is today. At first the building served as a first floor art gallery with second floor tattoo shop. Artisan happily participates in the monthly "Unblurred" gallery crawl. Every first Friday galleries on Penn Avenue open there doors until late in the night debuting their newest gallery shows. Folks park along the Avenue and walk up and down the sidewalks to listen to live music, to eat delicious foods and to see an impressively diverse representation of the Penn Avenue art shows.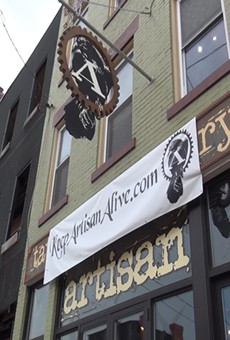 Working along side my coworkers motivates me to work just as diligently and studiously as they do. We encourage and challenge one another to be better versions of yourselves. Art, for each one of us, does not begin and end during shop hours. We live and breathe art, waking up early and staying up late to complete not only our drawings for future appointments, but also commissions, collaborations, exhibits and personal art pieces. Tattooing is a constant streaming to do list. As soon as you are done with one drawing, there is another one waiting. If there isn't another one waiting, you ought to draw something and post it in order to fill empty appointment spots and promote your tattooing. I love the stream of work. It pushes me to become a more competent artist and constantly to produce new imagery outside of the realms of my personal art making. I never know what new concepts a client will bring to me and often learn to draw something new with each coming month. I absolutely love how there is no way to get writer's block this way.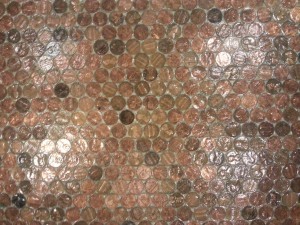 Now Artisan is gearing up to house our boutique, coffee shop and art gallery on the first floor. In the future, tattooing will expand to the second and third floor. Artisan is, by far, the most amazing and beautiful tattoo shop I have ever seen. From the hand-assembled penny floor, to the vintage mirrors and beautiful large format windows, the shop is full of natural light. Usually the first in and last out, the owners invest and maintain their business while setting the standard for work ethic at the shop. They respect their employees and have successfully created a safe space for clients and artists to interact. I am very proud and honored to be a part of such a wonderful community. If you haven't stopped by to see the shop before, I definitely would encourage you to check it out (especially during the "Unblurred" Art Crawl).